Healthy Holiday Appetizer Ideas
Thursday, November 2, 2023 by Doreen Wennberg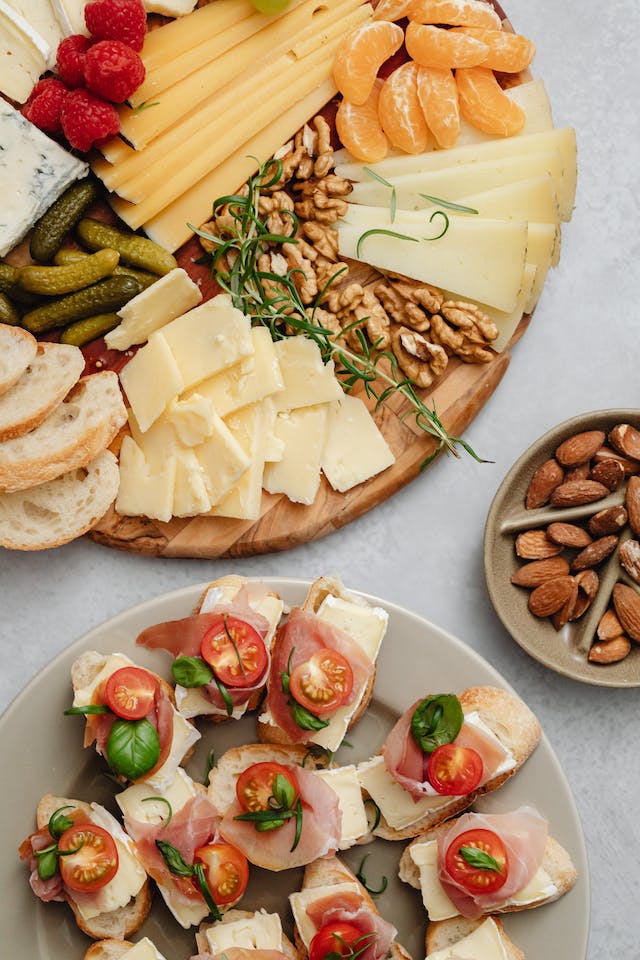 One of the worst culprits that sabotage your healthy eating lifestyle during the holidays are the appetizers you will encounter at every gathering from now—until New Year's Eve! So, what can you do—plan ahead!
Navigate the holidays with delicious, healthy options, whether you host or bring an appetizer.
The most common appetizers we encounter at gatherings are the varieties of cold and hot finger foods. The ideas are endless, from chips and dips, sliced meats, cheese cubes, and crackers— to lil smokies, meatballs, sausage balls, and the list goes on. Are you getting hungry yet?
Most of the items listed above if prepared traditionally, are high in sodium and full of fat.
The ever-popular Charcuterie board is a great way to add a variety of delicious, wholesome, healthier appetizers that everyone will enjoy—whether you are hosting or bringing something to share.
If you aren't familiar with the Charcuterie board, according to stateandallen.com, Charcuterie is a fancy word for cured meat. It derives from French origins in the 15th century when people used every last bit of their meats.
Yes, you can take a meat lover's delight and borrow the name while putting your own spin on an old tradition.
The fun of using a large wooden board or even a marble slab is preparing and arranging an impressive variety of foods. I love them for the mix and match of colors and textures—and a wide assortment of healthy, delicious options.
The ideas are endless and totally up to your imagination. A good mix of salty, sweet, savory, and spicy flavors appeals to everyone's pallet while still healthier.
Salty options: you might include olives and dill pickles.
Sweet options: use mixed fruit or dark chocolate-covered almonds.
Savory options: black bean salsa, vegan cheese, white bean dip. Or even canned rinsed chickpeas, raw or roasted.
Add a variety of items guests can dip with like, healthy crackers, flat breads, and assorted veggies—like sliced red, yellow, and green peppers, carrots, cucumber sticks, and grape tomatoes.
Use small ramekins and different sizes and shapes of bowls for fruits, nuts, dips, olives, etc. Or place some food items on the board such as the crackers, breads, and sliced veggies.
The items listed above for this Charcuterie board are mainly cold, and can be prepped ahead.
You may opt for an additional hot food board using a cookie sheet and parchment paper, or a baking stone for Vegan Stuffed Mushrooms and Falafels with a dipping sauce like Tzatziki. Yum!
Another great hot addition is a healthy soup. Prep it ahead— reheat it, and pour it into a small crock pot to keep it warm. A perfect Fall soup for that is Butternut Squash soup—so good!
With some planning, the fun of gathering with family and friends on festive occasions doesn't have to sabotage your healthy eating habits.
Whether you try these recipes, or use some healthy creations of your own, I hope you enjoy the holidays with all good things in moderation!
---
---